Virtual Reality and Augmented Reality In Real Estate & Digital Marketing
---
Source: Clutch.co | "How Small Businesses Invest in Digital Marketing in 2018"
Author: Elizabeth Ballou | elizabeth@clutch.co | (202) 840-6682
When most people think about augmented reality and virtual reality (AR/VR), they think first of video games, like the VR version of Skyrim or Niantic's AR smash hit, Pokémon Go. But AR/VR technology has other applications, too.

One of the most promising? Bringing real spaces to virtual life. AR/VR experiences let people inspect a hotel room that's thousands of miles away so that they can decide whether they'd like to book a stay. They let customers walk around a virtual Rebecca Minkoff store and buy clothes. And they allow prospective renters and homeowners the chance to see what a house is really like.

To get a sense of AR/VR's digital marketing capabilities in the real estate field, I spoke to Derrick Bozkurt, owner of House in Motion, for a report on digital marketing in 2018. My survey results showed the following:

10% of small businesses (that is, businesses with 500 or fewer employees) currently use
AR/VR marketing.
However, 21% of small businesses with 50-500 employees currently use AR/VR
marketing.

12% of small businesses plan to invest in AR/VR marketing in 2018.




It's clear that AR/VR digital marketing is a trend that forward-thinking companies are capitalizing on now. Programs like Amazon's Sumerian and Apple's ARKit have already brought AR/VR experiences to users - and this is just the beginning. According to Statista and NewGenApps, the global market size of the AR/VR market will be $143.3 billion by 2020.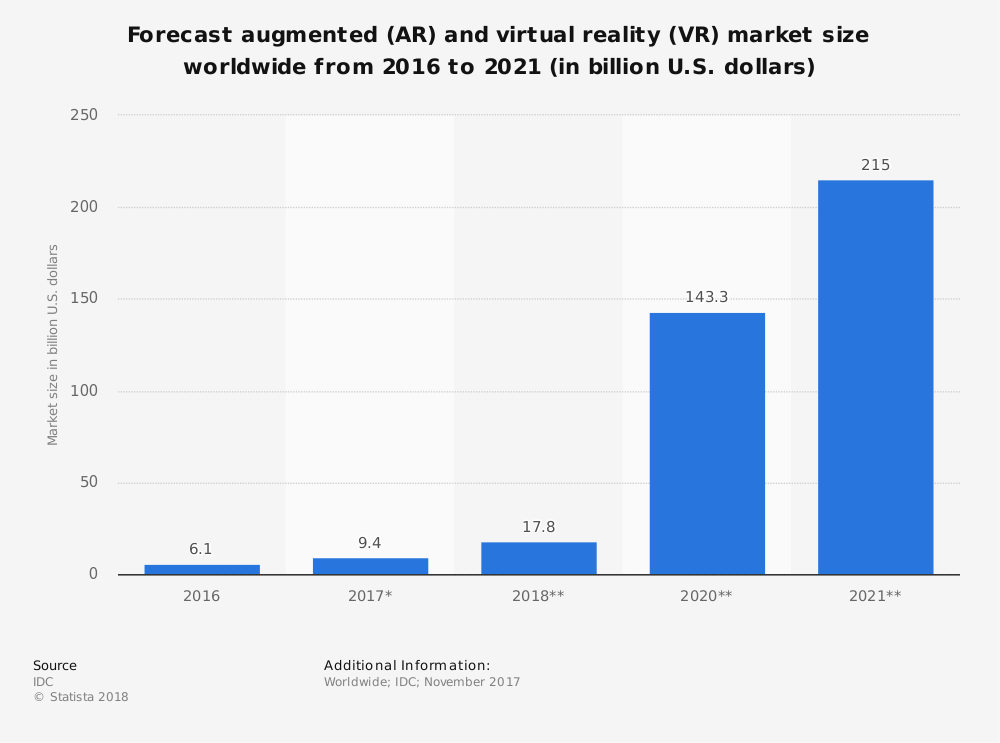 House in Motion uses VR technology to build property tours, which those with a VR headset can view; as well as 360-degree video tours, which don't require a headset. Bozkurt started offering these tour options in 2016, when he and his team saw that virtual reality was an up-and- coming real estate technique.

The moment Derrick first tried a VR headset, he saw the business potential, he said. "You can talk about VR all day, but until you throw a headset on and view high-quality content, you haven't seen what VR can do. It's going to change a lot of industries - real estate is just one of them," he told me.

For Derrick and other realtors, VR tours solve a key problem: inaccurate property descriptions on online listings. "People will write up a glowing description which isn't entirely accurate. Many times we'll drive to a property, and within seconds clients say it's not at all what they expected."

A VR tour means showing a house in all its assets and flaws, though. Clients know what they're getting and can better prioritize the properties that stand out to them.

Here's one example of a 360-degree house tour (if you have a VR headset, you can also view it in VR):

What's more, touring houses takes time for the realtor, the prospective owners, and the current owners. Sometimes syncing all those schedules is a near-impossible task. VR tours cut down on the need for as many tours, which saves gas money and time stuck in traffic.
"For buyers, VR tours are a huge help. For sellers, tours are great because they give sellers the ability to market their property in a whole new way," Bozkurt said.

In 2018, it's crucial for businesses of any size to consider whether AR/VR marketing would be able to bring the same unique edge as the technique has for House in Motion. But the most important part of moving forward with an AR/VR experience, said Derrick, is whether it brings any real value to the consumer. Companies shouldn't create VR apps just for the novelty; they should come up with apps that provide consumers with experiences they couldn't otherwise have.
"Focus on what's really valuable [to the user]," Bozkurt explained.

Since AR and VR headset sales are set to jump 50% in 2018, it's worth investigating what AR/VR marketing could bring to your business.
Elizabeth Ballou is a content developer at Clutch, a ratings, reviews, and research platform in Washington, D.C. She writes about digital marketing and HR. When not writing, she listens to too many podcasts and dreams of owning a VR headset of her own.