The State Of VR In Real Estate & What Millennials Really Want From a Realtor
---
The House in Motion Team uses Virtual Reality a great deal in our client services and marketing, and here are a few thoughts as to why:
If you've ever been in the market to buy, or even rent a home, you know that one of the biggest challenges for people is the process of driving all over to look at residences; many of which are not that perfect match that the listing descriptions and photos depict.
Out of the dozens of homes that the average buyer or renter will view, most of them are eliminated within seconds of walking through the front door or pulling into the driveway. The biggest benefit that our service provides is returning time back to our clients, and letting us do the heavy lifting and scouting for them in the search for their new home.
Likewise, sellers struggle with having a rotating door of showings for the general public, and having complete strangers in and out of their home at all hours of the day. Many of these showings could be eliminated by the potential buyer being able to accurately view the home in 3D/VR and determine if they are truly interested in it in the first place.
Our virtual reality services translate to 24-hour Virtual Open Houses, which gives prospective buyers a true sense of the property; reducing uninterested or redundant showings, and providing a powerfully modern way to market the home to a more engaged audience.
This new method of serving the general public is an exciting new side in the industry, and House in Motion is proud to be one of the first companies to be leading the charge in this arena. Check out the following infographic for some more stats on how VR is impacting Real Estate: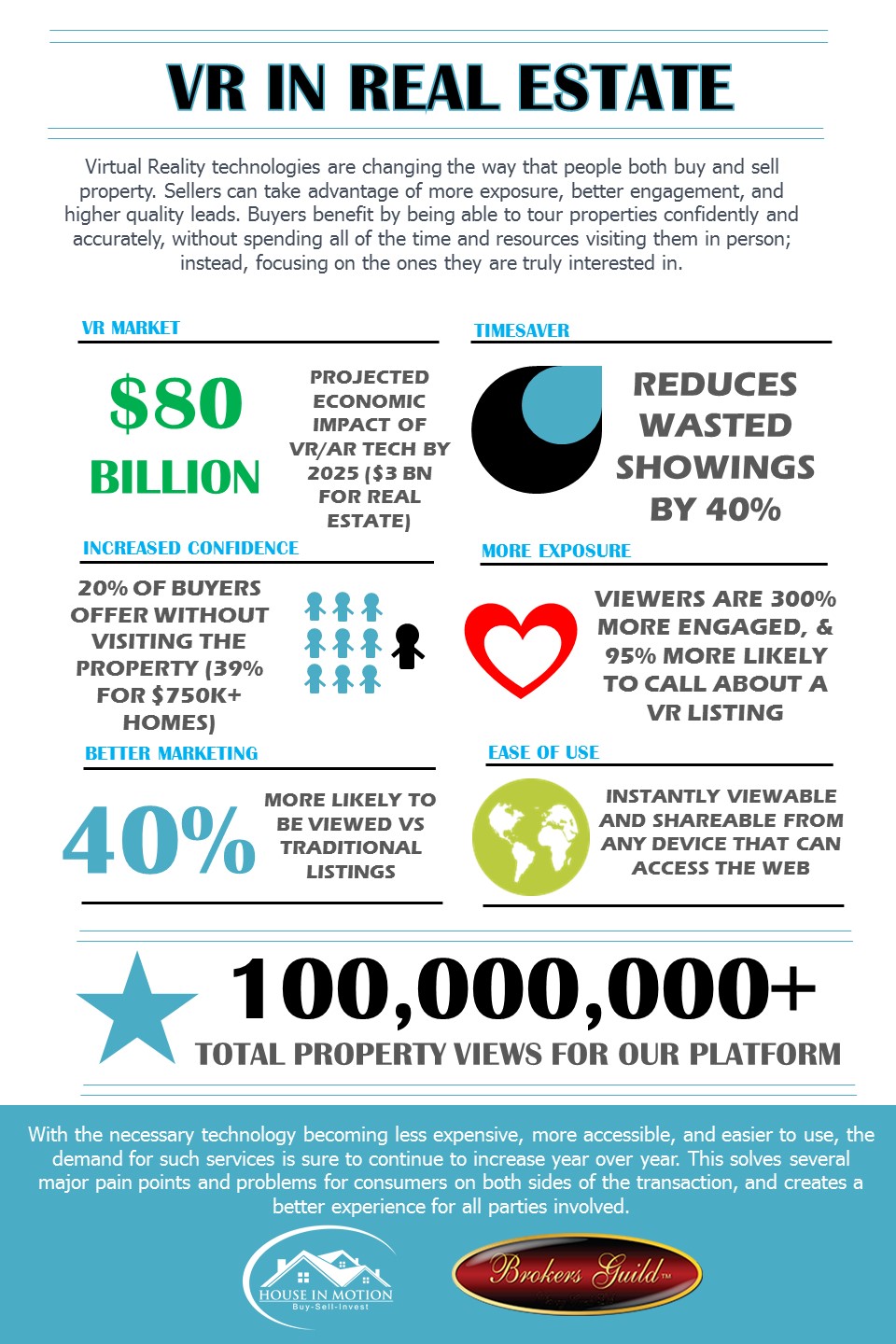 Access to accurate information and time-saving technology is quickly becoming more and more important to market participants - Especially for younger generations that are entering the market. For example, check out this recent survey of what Millenials want and need from their Realtors (Excerpt below):
Author: Emile L'Eplattenier |


Millennials have been delaying buying homes and having kids, but it seems like they're finally starting to snap up real estate.
In fact, the latest NAR Home Buyer and Seller Generational Trends study for 2018 found that millennials are now 36% of all buyers…
In order to get a handle on what marketing to and working with millennials looks like in 2018, we asked 11 top producing agents for their feedback (See all responses here).
A Realtor Who Keeps up With the Latest VR Technology
Derrick Bozkurt, Colorado Realtor



"Virtual reality allows our clients to confidently tour properties in a meaningful way, before they get snatched up in this highly competitive market, and on their own time and schedule. The biggest benefit that our service provides is returning time back to their client, allowing them to focus on the properties that they are actually interested in. For Millennials, and our remote and military clients, this technology is invaluable."
A Realtor Who Has a Website With Everything They Need
April Wong, Director of Marketing at Chime Technologies






"Millennials are looking for accessible information. Information is now at their fingertips, so being able to research to their heart's content is what they want. A robust mobile-friendly IDX where they can search through all the properties quickly in their target area will help. More importantly, they want someone who is knowledgeable and can get the answers they need quickly about area stats, etc."



Bottom Line: As technology continues to improve and evolve, It is important for Realtors to use this leverage to benefit their clients. Reach out to the House in Motion Team if we can be of service to your or your family and friends - We are always happy to help!